{
Editor's Note: As I had feared, Gnorm arrived on my doorstep while I was out of town for work. I sincerely apologize for the delay in posting about his adventures; I returned last night to find him patiently waiting so he should be all rested up for a whirlwind tour before jetting off again tomorrow so he's not late in getting to his next destination!

As an aside, all the photos are clickable thumbnails to avoid long waits for the page to load for those on dial-up.
}
*yawn**stretch* What a wonderful nap! It was so very kind of Stephanie to send me off so comfortably!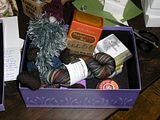 I had some lovely Yarn Pirate yarn as a squishy soft pillow that kept me from being bored by exploring the myriad beauty of the Deep Cove colorway: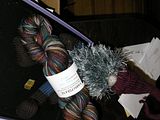 ..and some tea to enjoy by candlelight from Market Spice in Seattle (which Teej says is her *favorite* tea of all time - how did Stephanie know?!):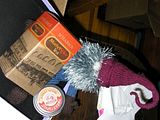 ..and she she even sent along some absolutely splendid handmade soaps (made by Stephanie herself!) so I would be sure to arrive smelling fresh and clean: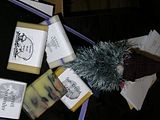 After apologizing profusely for leaving me alone for so long, Teej explained that she needed to unpack her own bags from her recent trip to Kansas City as well. In doing so, she left me to pet and admire the spinning fiber she acquired while there - some lovely cashgora and a small stack of silk hankies from a marvelous little shop called
Cottage Fibers
: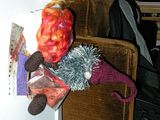 After she unpacked, Teej wandered out to check on some of her plants to see how they'd been faring in her absence. I was really fascinated with the morning glories climbing up the twine on her front porch: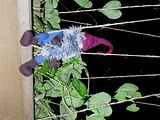 As we were walking back inside, I spied a portrait of a long lost relative:
I'll have to check my genealogy books and charts when I get back home to figure out just how I'm related to the gnome in the portrait, but I'm sure I must come from the same family tree.
When it was time to get ready for bed, Teej offered me the use of her newly finished linen washcloths and my pick of the soaps from Stephanie to wash up with. I picked the Sweet Surrender bar because it's such an intoxicating scent and the bar itself is swirled with gorgeous colors: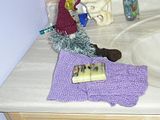 Today I'm accompanying Teej to her office for the morning so she can catch up from being away this week and attend a few meetings. This afternoon, though, we're sneaking out a little early to do some sight seeing and take in a show -
Pirates of the Caribbean: At World's End
!