Whew! I had a pretty busy day today, checking out Teej's office and meeting her co-workers.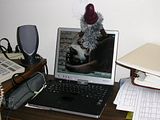 Teej has two computers in her office - a desktop that is her primary computer and a tablet laptop that is her travel computer. As an extra bonus, her tablet has quite a lot of music burned onto it, so I got to check out some new-to-me tunes by Rusted Root, the Cowboy Junkies, Sweet Honey in the Rock and a few I didn't catch the names of. I grooved out for awhile with Wilcoxon, Teej's moose, enjoying a cuppa the fabulous Market Spice tea that Stephanie sent. Teej is right - it's really, really tasty!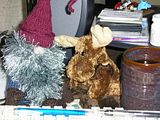 Deb - a professor in the Women's Studies and University Honors programs - came by to say hi...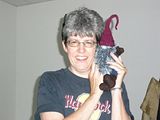 ...and took me on a quick tour of the office while Teej went to a meeting so I got to meet the folks who work in the Provost's office: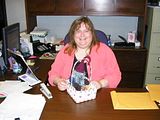 Chandra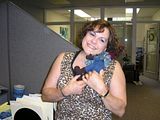 Carmen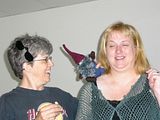 Betsy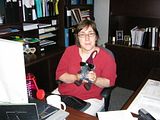 Karyn
They were all really nice about showing me around. Once Teej got back, though, we were off again, this time to Samulnori rehearsal! Samulnori is a form of traditional Korean drumming and Teej plays the Janggu, which is a double-headed, hourglass shaped drum that is played with two mallets, one held in each hand. Emily - a professor in Psychology - showed me how to play the Janggu: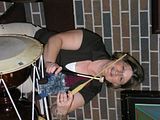 One of the other types of drums used in Samulnori is a Buk, which is like a small bass drum. Ronda - a professor in Communication Studies - held her Buk for me so I could try it out: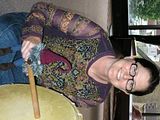 After Samulnori rehearsal, Teej's husband Jack came to get us and we went to a theatre to see the new Pirates movie. It was pretty good, but all that water made me a little nervous, so I was kind of relieved when it was over! We had a quiet dinner at home and are now chilling out watching some television. Tomorrow we're going to do a little more site seeing around the bluffs in La Crosse and spend some time in Teej's garden before I have to jet off to my next stop.