What a gorgeous day! After the storms blew through yesterday (while we were in the movie theatre) the humidity dropped and the sky cleared and we awoke this morning to a gorgeous sunny day with some moderate winds. It was a great day for viewing the sights of La Crosse.
Teej explained yesterday that while she lives in Caledonia, MN, a town of about 3,000 people, she works and her husband goes to school in La Crosse, WI, a much larger town about 25 miles east of Caledonia. To get from Minnesota to Wisconsin, we have to cross the Mississippi River; there are two bridges - one on Cass Street and one on Cameron Street - that take traffic across the river and I was driven across both of them yesterday and then again today. The Cameron Street bridge is new - it was just built a couple of years ago - but I think the engineers did a great job of fitting it into the form of the Cass Street bridge.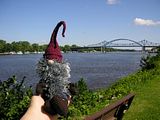 The Cameron Street bridge is the front one and it's the rounded middle "peak"; the Cass Street bridge is the one in back and it's the two end "peaks". I think it's sort of neat that the trees on the other shore are Minnesota, but I was in Wisconsin when we took this picture!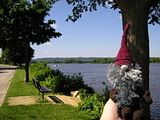 We were at a little park that sits along the edge of the river to the south of the bridges and I was a little surprised at how small the river seemed up here. I've been told about "the Mighty Mississippi" and I always imagined it much bigger. Teej assures me that as the river wends its way south it gets much bigger, but that there's a place in Itasca, MN where even I could just step right over it in one stride!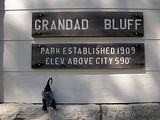 Teej tells me that the two "attractions" in La Crosse are the river and the bluff and just in driving from her home in Caledonia into La Crosse I can see why. The bluffs are gorgeous - though Teej says they're even more impressive in the autumn when the trees all change colors - and I even got to go up to the very tip top of the largest one in La Crosse - Grandad's Bluff.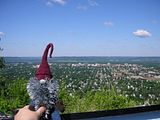 It's quite a height! It was windier up on the top of the bluff and I was a little nervous that I'd get blown over the edge, but Teej kept a good hold on me so I could get a look over the edge at the city of La Crosse spread out beneath us.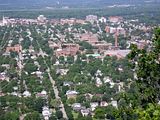 Teej pointed out that we could see the building she works in on campus - where I met all the people yesterday.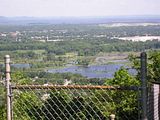 A little ways out of town is the marsh, which is a natural wetlands area that is home to lots of waterfowl. Teej says that's it common for her and her husband, Jack, to see herons and egrets on their commute into town, as well as lots and lots of falcons and eagles. I don't think I saw any, but I have to admit that I tried not to look - I would be just the perfect size for lunch. *shudder*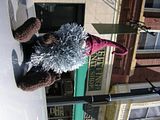 Teej needed to stop at her local yarn shop - Fitting Knit Shop - to get a couple skeins of black yarn to make swatches for a
DNA scarf
she's making for a friend and while we were there, I got to meet Mimi, who showed me how to knit while we were waiting for Teej to pick out the yarn she needed: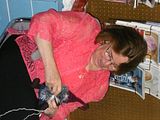 Mimi said that she thought one of my cousins might live in her shop, and sure enough, it turns out that Sven and I are related: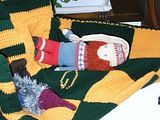 Sven is Norwegian and is originally from
Vanberia
in Decorah, IA. Mimi said that the Vanberia store had patterns for both Sven and his wife as well as for an Irish couple.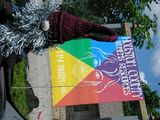 On our way back to Caledonia, Teej had to stop in quickly to Houston County Women's Resources, where she is the Board President, to check in on some planning for one of their upcoming events and chat briefly about the preparations for next fiscal year's budget.
Now I'm tucking away the goodies that Teej is sending along with me for my next host and pretty soon I'll be off on my way again! I'm looking forward to my next stop - Teej says she's been watching the blog of my next host and knows that she's just as excited to have me as Teej was!